"Man alive!" is something my old band teacher used to say all throughout high school. He was a gruff fellow with a patch of white hair in the middle of otherwise brown, brown hair. We never knew whether the patch was natural or a conscious decision. Could he be dying it white? Or dying everything else brown? Our teacher also had a cousin (or was it two?) who worked in the same school, and every year the story around our band teacher's hair changed. As the story goes, according to the cousin who taught physics, they were all camping one morning when Mr. Physics woke up to find Mr. Band in a clearing, in the middle of the woods, smashing bottle after bottle over his head for no apparent reason. Anyway, I use "man alive!" now for extreme positive surprise.
There's something to be said for nonfiction: the draw, I think, is that it's a story that actually happened. I spent a lot of time in 2020 reading nonfiction, and maybe that was because of the lack of daily human interaction (thank you, lockdown), apart from my own immediate family. Near the end of the year, though, I started flagging. Too much nonfiction, I think, kills the spirit. So I'm sticking to fiction for the first few months of the new year. I did chow down on a few more books before the calendar turned, though, and they got me thinking about what I did enjoy in nonfiction.
The Meh
These left me turning the page just to get things over with:
The bulk of the nonfiction I read was really intriguing. so these stood out, relatively speaking. Head in the Cloud started off with a few funny stories and answers an interesting question (re: the subtitle), but it becomes repetitive in how it answers the question. Are "successful" people (ex. higher income, better mental health, etc.) likely to know more about sports? Yes. Are they more likely to know historical trivia? Yes. Do they know more words? Yes. And so on. Poundstone should be credited for his thorough research, but the conveyance is less entertaining.
I struggled through Mastermind for entirely different reasons. Konnikova is an award-winning writer and journalist, but the scope of this book was more suited to a graduate interpretation of Sherlock through a psychological lens than a book for the general public. Konnikova writes well enough about psychology and its applications to daily life, but by applying it to a literary analysis of Sherlock, the reader needs an intimate understanding of Sherlock adventures if they are to actively discuss the connection to Sherlock. There's a bit of extrapolation that goes on, too, adding to Sherlock's actions in the name of teaching psychology.
Neat connections in both works, to be sure, but perhaps the biggest downer about these works was that I felt as though I were being talked at most of the time. Like sitting through an online PowerPoint presentation via Zoom where there is zero invitation or inclination to turn on your mic.
The #Mood
These spoke to me because they felt so relevant as I read:
I've already written at length about Dufu's Drop the Ball and how it related to my choice to stay at home, as well as Hirsch's Why Knowledge Matters and how that's influenced my thoughts around the current education system as well as my thinking around homeschooling.
In contrast to Mastermind, Konnikova's first book, The Biggest Bluff is her latest work and, in my opinion, her best one yet. I did read The Confidence Game and found it to be just as well written but this one is a real-life story of everything that makes a story good: an underdog (Konnikova), training montages, constant wise sages, emotional vulnerability, several falls, a major rise to greatness, and a continuing story of hope. I found this one particularly refreshing because I had been so disappointed with Netflix's The Queen's Gambit. Both stories are breathtaking, especially in the main character's determination to study and rise to the top, but Gambit fell short because chess was just a prop for the story. Bluff, on the other hand, ties multiple angles together: human psychology again, a growing understanding of poker, and the human aspect of it all, of struggle and victory, of poorly placed pride and confidence in mastery.
As I'm writing this, I've also realized that I enjoy nonfiction much more when there is a first-person connection. Compiled research is for an academic journal, but compiled research backing a person's own experience? Yes, please. Hirsch was much less emotional in his exposition, but the snippets he included of his travels and observations of other school systems lent enough colour to all the other arguments he had to make. Alternatively, the other nonfiction that I've read and deeply enjoyed were all very personal (re: Handmade by Gary Rogowski and bird by bird by Anne Lamott).
The Man Alive!
Only one book this year really had me swept up from the first page, and you can cry recency bias (I finished this one the same night I started, at 4 AM, on December 30). There's no denying his mastery.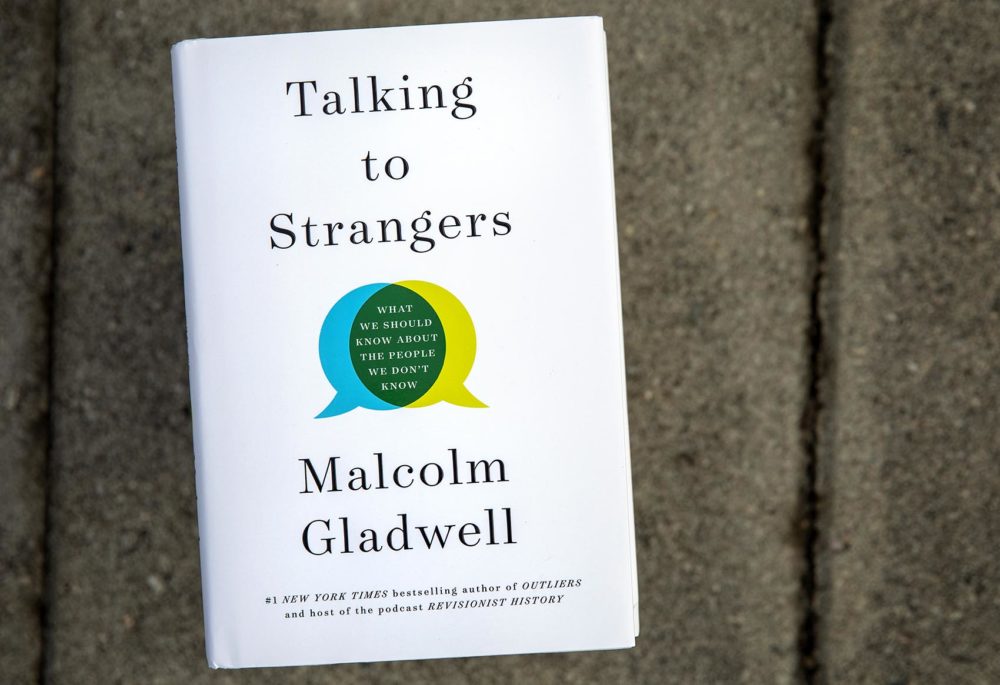 I have enjoyed all of Gladwell's previous books, and was absolutely chuffed when my husband brought it home from the library (I believe he had started at #100+ in line for the book). I hadn't read Gladwell for a while (I think the last time was in 2018, when I was still pregnant and reading on the treadmill), so hearing his voice from the pages again was a treat. Reading Gladwell at the end of such a year, too, was incredibly thought-provoking.
He begins with a story that touches on so many things pertinent to this year: the Black Lives Matter movement, police decisions, and snap judgments all around. The stories in Strangers are sobering, much more so than any of his previous books (What the Dog Saw is so lighthearted, by contrast), and they run from Hitler to the suicide of Sylvia Plath. Gladwell does not pretend to know so much about everything as to offer judgment, but instead holds out this hypothesis: that strangers are complicated, and that we simply cannot jump to conclusions about anyone, because so many events happen as a confluence of context and ignorance. (Interestingly, his hypotheses set this scientist off because they lacked but were accepted as academic rigour.)
The experiences Gladwell records both are and are not his own. He weaves others' narratives in with practised skill, but he also writes as a journalist, as if he were there personally (and sometimes, he is). So there's all the direct personal touch that makes nonfiction so enjoyable. And what makes him master is the method of his storytelling. Imagine opening up books and overlapping them in a line, introducing story after story. Then, the main point arrives, and then, like dominoes, each book closes again and folds into the book before it, until they all wrap up together. It's mesmerizing, and seeing Gladwell roll up his sleeves and roll out his stories chapter after chapter is what kept me up until 4 AM.
---
There we go! Now to fiction! And perhaps still the odd nonfiction along the way, or at least, when I've collected my thoughts on what I have read.
Featured photo by Tim Mossholder on Unsplash