Jack and I both have opinions on children's books, having read so much with the toddler. I'm sure every parent reaches this stage whether they realize it or not. It's not even about art style or topic, but there are certainly books I hope to read over and over again and there are others that are irritating as all get out.
You may shake your head when I tell you that thinking about the mediocre and trash books out there make me want to scream, but truly, books with clever puns and wonderful rhymes are much more pleasurable to read than ones that lack written artistry. Without further ado, here are some of the more delectable children's books that we have been enjoying together.
---
There Was An Old Dragon Who Swallowed a Knight by Penny Parker Klostermann, illustrated by Ben Mantle
This was one of the first books I remember reading when the toddler was much younger. It's hilarious (and you can find it, at the time of writing, on Book Outlet, a favourite site of mine which I am plugging for no reason except that I love the site).
Part of my love of the book is for it's wonderful rhyme and repetition. We've read together so much that at one point I could recite the whole thing word for word, and the toddler would ask for it in the car.
Having returned it to the library, she later asked to borrow it again and enjoyed it this time not for the repetition but for all the burping the dragon does at the end.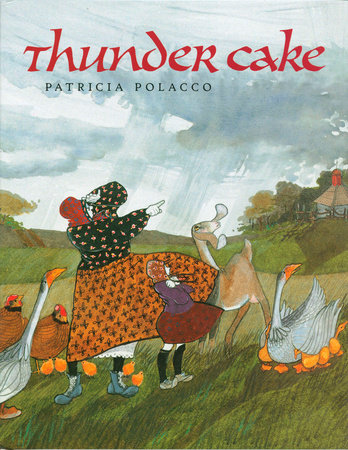 Thunder Cake, written and illustrated by Patricia Polacco
When we opened this book I was worried that the toddler wouldn't sit through it. The first page is dense and the illustrations seem dim and gloomy compared to the technicolour of something like, say, Spot books. (An aside: Spot books were great in my memory and terribly mediocre now. So much for nostalgia).
The story is realistic and is a simple retelling of a grandmother who helps her granddaughter overcome a fear of thunder by baking chocolate cake. I appreciate it for its rich language and gorgeous watercolour illustrations.
Both my toddler and I were entranced by the word "cake," enough for her to listen to the whole story in one sitting, but what kept her coming back to the book was the fact that it was a story about a child and her grandmother. If you're interested, you can also hear Polacco reading her book here on YouTube.
The Bagel King by Andrew Larsen, illustrated by Sandy Nichols
Whereas I borrowed Thunder Cake because it had the word "cake" in the title (I really have to wonder how my kid(s) will turn out in the future), the toddler grabbed this one in the library either because a) it was at her eye level or b) she thought the bagels were doughnuts. We read part of it in the library before she skipped off, but I wanted to see what happened so I borrowed it.
Turns out The Bagel King is a great pairing to Thunder Cake. Instead of a girl and her grandmother conquering fear and baking chocolate cake together, here you have a boy caring for his injured grandfather and keeping their weekly ritual of Sunday bagels together.
What's more, the book contains Jewish vernacular like "schmutz" and "mensch" and a pronunciation guide to boot. I love books so infused with culture, and the plot, while predictable, is as heartwarming as it is tasty.
Lady Pancake & Sir French Toast by Josh Funk, illustrated by Brendan Kearney
These are some of the more recent reads scattered around our flat. I absolutely picked it up for the food on the cover and looked up the other two titles as soon as we finished Short and Sweet. The toddler loves rhyming couplets (she went through a brief phase of asking me to narrate her life with rhymes), and I love the clever wordplay, rich language, and silly situations that these carb-tastic friends get into.
Each page is chock-full of imaginative illustration and, although not realistic (I allude to the type of books preferred by Montessori mums), reading through them is enjoyable for anyone in listening vicinity (Jack snorts when I read with the toddler). At the end of each book, you can pull out a folded map to retrace the duo's steps in the story. Enticing and hilarious; it's a winning combination.
---
And that's that for now. What books would you recommend for munching?